Our Partnership, Your Benefits!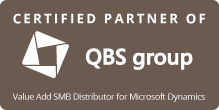 Doing business with one of the partners of Quattro Business Solutions (QBS group), means doing business with one of the fastest growing, largest and most experienced Microsoft Partner Organisations in Europe.
QBS group is Value Add SMB Distributor for Microsoft Dynamics and takes care of all distribution and support activities for her Microsoft Dynamics partners in Western Europe. Next to this QBS group supports her partners with the development, supply, marketing & sales, implementation and support of end-to-end Microsoft-based business solutions to the SMB. The services that QBS group provides to her partners enables them to further improve the quality of their customer services and become more efficient and effective.
The partners of QBS group are highly experienced experts in the specific market segments they operate in. They also lead in the area of Microsoft Dynamics and other Microsoft based solutions.
As an end-user you benefit from the knowledge, expertise and methodologies of QBS group and her expanding group of professionals. You can be sure of the best solution for your organisation, a smooth implementation and excellent support. QBS group maintains a direct contact with Microsoft and is involved in the TAP program (Technology Adoption Program; aimed at optimising the customer experience, by involving customers in the pre-release phase of new Microsoft solutions).